Gibson relishing return to cricket
Danielle Gibson, the youngest of the trio of Western Storm players to recently sign retainer contracts, is looking to make the most of her return to the domestic game.
The 19-year-old Cheltenham native initially established herself in the Storm lineup in 2018. However, an unlucky string of injuries meant her 2019 season got off to a less than ideal start and ultimately came to an early end in the first Kia Super League (KSL) match of the season in which she broke her knuckle.
The coming season presents the opportunity to reestablish herself in the team and aid Western Storm in their mission to rise to the top once again.
"I just want to be able to get back to playing again," Danielle said. "My second season with Storm I bowled quite a lot and performed well. I want to get back being comfortable in my body and not having to worry about any injuries.
"For the team, I just want to put Western Storm's name back on the grid as one of the best squads out there, if not the best."
Storm were the most successful team to play in the Kia Super League winning two of four Finals Days at Hove. Two new competitions will take the place of the KSL but Danielle is well aware that there is no room for complacency.
"I think Western Storm will always be one of the names that people associate with being one of the best teams in women's cricket. Although, it will be a completely different setup this year with two extra teams involved and a new look squad with some different players, so we will need to reestablish ourselves at the top again."
Originally brought into the team for her right arm seam bowling and outstanding athleticism, Danielle was only able to showcase her batting in the 2019 Royal London Women's One-Day Cup due to a back injury that prevented her from bowling.
Danielle, playing for Wales Women, featured in six matches in the competition. Her top score of 57 came in a dominant 72-run win over Essex Women at Griffithstown. Still, she sees plenty of room to improve this part of her game.
"I'm quite happy with my bowling and fielding but when it comes to my batting, I'd like to be able to stick out there for a long innings and make better decisions in the process," she said. "I'm an aggressive batter who sometimes struggles to be calm and simply defend the wicket. So being able to play a calm innings would be one of the best things I could learn."
The Western Storm side will be made up of some new personnel but Danielle will be joined by familiar faces in former Southern Viper Fi Morris and Storm stalwart Sophie Luff. While some teammates from the 2019 KSL winning side will be playing elsewhere, Danielle is still grateful to have been able to play and train with some big names.
"For working on my bowling, it was very helpful having Anya Shrubsole on my team. I'm a seamer as well so it was great having her to share some knowledge and see how she prepares for games.
"Having the England captain Heather Knight as my captain was amazing. She helped me with my field placements and was there when I was struggling with my bowling. She would just be there for you and talk to you about how you can get through tough periods.
"Bowling against Smriti Mandhana was honestly impossible. It makes you realise how much harder it gets the further in the game you go and you've got to be so switched on tactically as well as technically. It was always a great challenge."
Gibson, who also plays for Dumbleton Cricket Club just north of Cheltenham, came through the Gloucestershire Women's Academy before she was picked up by Western Storm in 2017. As someone who has made a name for herself in the West Country it should come as no surprise that her best bowling figures of 2 for 34 against Surrey Stars came at the Cheltenham Festival in 2018.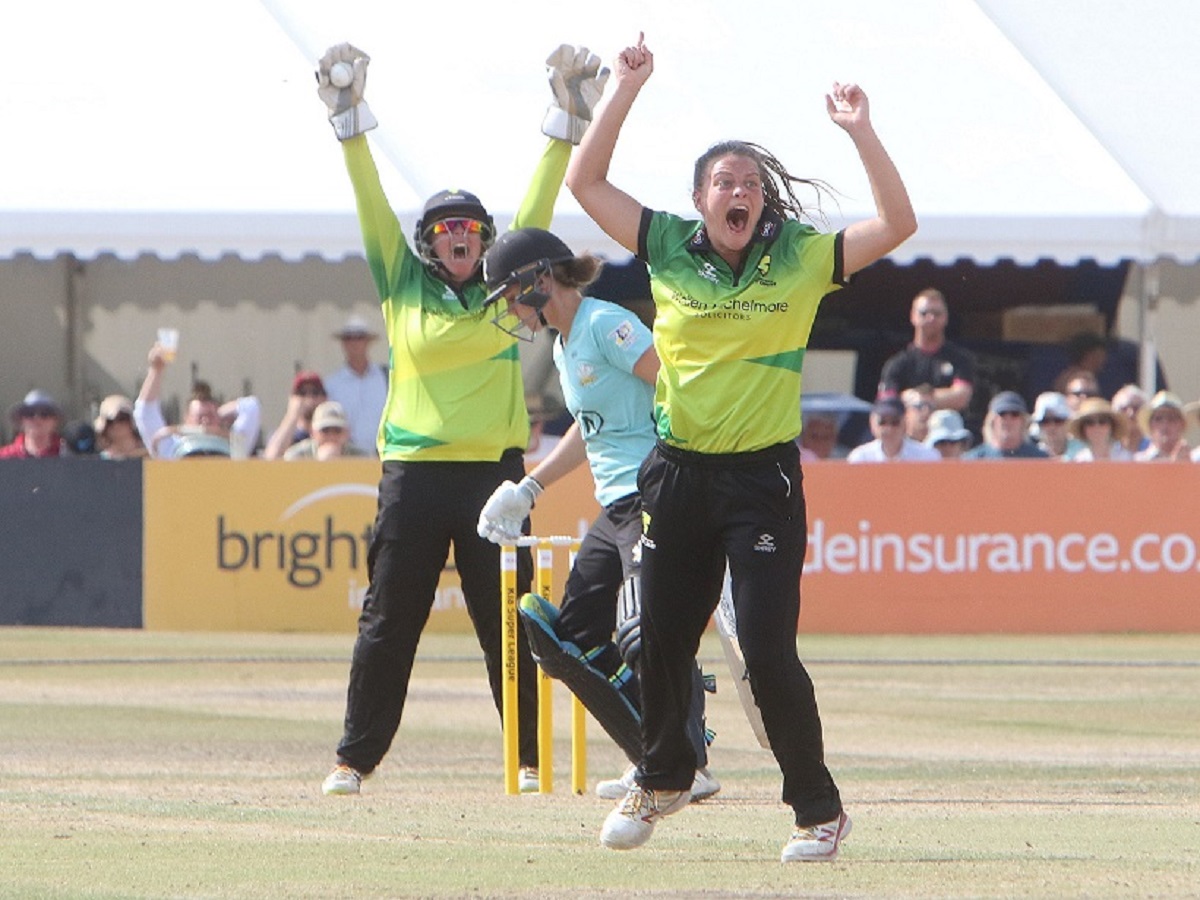 Danielle has also been a part of the England Women's Senior Academy since 2018. The academy aims to develop young cricketers into the best players in the country with a big emphasis on working with each cricketer individually.
As one of the three Western Storm players with retainer contracts, Danielle will be contracted until the end of September with a view to signing a full-time professional contract beginning in October.