Western Storm name 2022 Regional Academy players
Western Storm have today announced the selections for the Regional Academy programme.
Players from across Wales, Somerset, Gloucestershire, Wiltshire, Cornwall and Devon were nominated and were put through their paces by top coaches from within the women's game.
The Regional Academy Programme consists of a variety of practice and match opportunities across the region throughout the year, with players attending weekly Academy hub sessions which will give them the opportunity to develop their skills.
The Western Storm Academy will once again train at some of the best facilities in the region, with Gloucestershire County Cricket Club (Bristol), Glamorgan County Cricket Club (Cardiff), Somerset County Cricket Club (Taunton), Exeter University and the Cornwall Cricket Centre (Truro) all hosting an Academy hub.
Players selected onto the programme will receive a broad range of support sessions to further their development including technical support, tactical awareness and a strength & conditioning programme. The players will also receive both physiotherapy and medical support.
The fifteen players selected onto the Western Storm Academy are: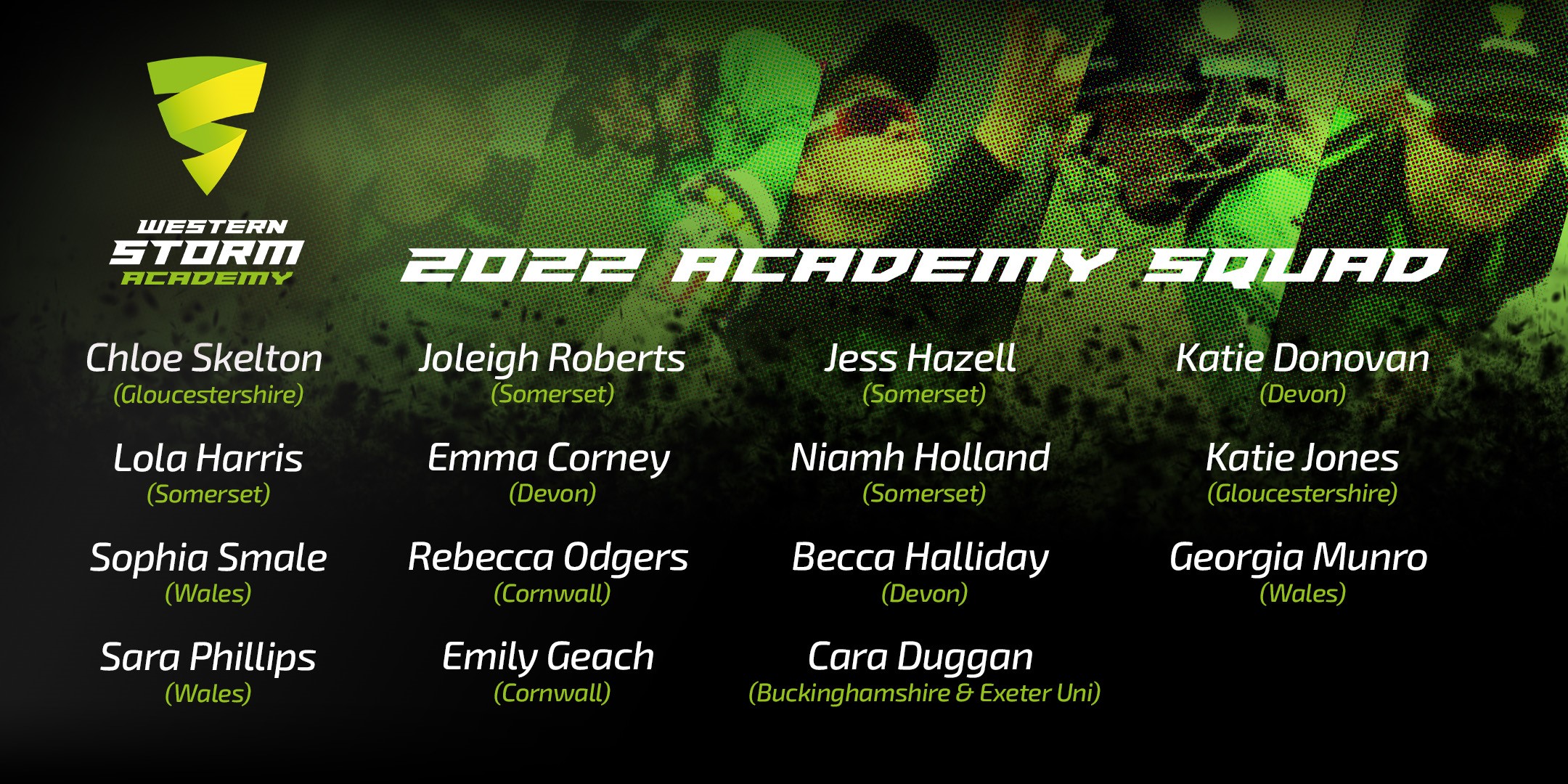 Following the selections, Western Storm Senior Regional Talent Manager, Dan Helesfay said: "I'm really excited by this group. We have a good mix of some players from last year alongside some new players. They all performed well for their counties this summer and hopefully this opportunity will give them the chance to develop further.
"It's so important that Western Storm has a successful academy system because it provides the players with the opportunity to test themselves and improve so that they can put pressure on those in the main squad. In turn that drives those players to raise their game as well. That creates a really positive environment and drives the whole of Western Storm to improve.
"I've been involved with the women and girls' game for a long time and the progression and development of the players has improved year on year. In the last two years, since the introduction of the regional system, that level has accelerated dramatically.
"The women's game is growing at a rapid rate and it's great that there are so many opportunities now for girls to not only see it, but to be a part of it now that professional contracts are being rolled out. It's an exciting time for the game.
"It's great that we are able to work so well with the counties and Cricket Wales so that geographical challenges don't become a barrier to a player's development. We have a great working relationship with everyone involved in the region and that enables us to share best practice and to ensure that everyone has the same opportunity and exposure in order to develop. That is helping to drive standards at the county level which can only benefit the players and coaches across the region.
"Western Storm have had great support from the five counties alongside the national programme in Wales and long may that continue."